AGE REQUIREMENTS FOR KENTUCKY HUNTERS
Hunters who were born on or after January 1st, 1975 are required to obtain hunter education certification to legally hunt within the state of Kentucky. Youth who are less than 12 years of age are not required to obtain hunter education certification.
Excellent!
HUNTINGsmart! has a rating of 4.6 out of 5 stars based on 175 ratings and reviews.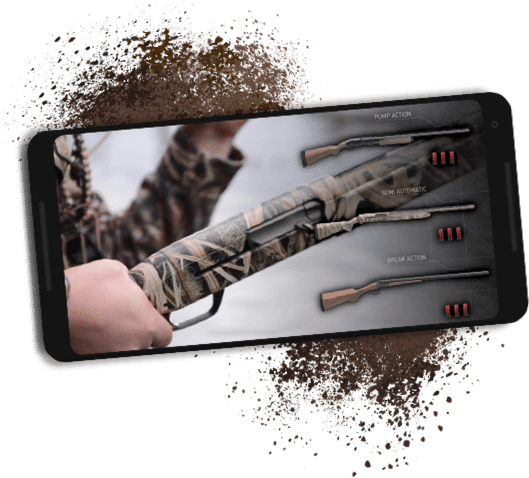 Watch, Listen & Learn
Take the course anywhere, on any device, at any time.
HUNTINGsmart!'s Kentucky Hunter Education Course is designed for all ages and skill levels. Our animated, narrated and live action videos guide your learning experience and help you pass. Study from your Smartphone, Tablet or Desktop and switch between devices at any time. HUNTINGsmart! automatically tracks your progress so you can start, stop and study at your own pace.
KENTUCKY HUNTING EDUCATION REQUIREMENTS

HUNTING LICENSES, STAMPS AND PERMITS
HUNTING LICENSES
A Hunting License is required in the state of Kentucky to hunt any game animal. There are a variety of license types available depending on your age, residency status, and what type of game you plan to hunt. Some of the hunting license types in Kentucky include:   
Resident License Types
There are a variety of resident license types available in Kentucky. Resident licenses are only available to individuals who reside in the state. Some of these licenses include the resident hunting license, youth license, sportsman license types, trapping licenses, and 1-day hunting licenses. Fees may vary depending on the license type. 
Non-resident License Types
Residents of other states who wish to hunt within the state of Kentucky will have specific license types available to them. Non-resident license types available include an annual non-resident hunting license, 1-day hunting licenses, 7-day hunting licenses, trapping license types, and youth hunting licenses. Fees and additional license and permit type requirements will vary depending on the license type being purchased and the type of game being hunted.
Permits
Permits may be required in addition to hunting licenses depending on the type of game being hunted, and where the person is hunting (ex. Hunting in a Wildlife Management Area). Some permit types available in Kentucky include non-resident permits, deer permits, bear permits, turkey permits, and elk permits Be sure that you've obtained the required licenses and permits you need before heading out on a hunt.

Temporary Hunter Exemption Permit 
Hunters who have not obtained a Hunter Education Certificate may choose to obtain a Temporary Hunter Education Exemption Permit. The permit allows the holder to hunt within the State of Kentucky, without a Hunter Education Certificate for a period of one year from the date that the permit was purchased. The permit may only be obtained once in the hunter's lifetime, and once it expires, the individual must obtain hunter education certification. 
The hunter must be supervised while hunting, at all times, by a licensed adult who is 18 years of age or older, who meets the hunter education requirements.   
KENTUCKY HUNTER CERTIFICATION AGE REQUIREMENTS

Kentucky's Hunting Fines

Hunting without a License or Permit
Up to $500

Spotlighting
Up to 150

Possession of endangered species
Up to $500

Possession of wildlife outside of game season
Up to $5,000

Illegal sale of wildlife
Up to $1000
DO I NEED A HUNTING LICENSE TO HUNT WITHIN THE STATE OF KENTUCKY?
Yes. A Hunting License is different from a Hunter Education Certificate and is required for any person who hunts any game animal within the state. This includes both residents and non-residents. Varying licenses must be purchased and carried depending on the hunter's age, residency, and the type of game being hunted. Certain exceptions may apply depending on the game animal being hunted. For more information on Kentucky, hunting licenses visit the Kentucky Department of Fish and Wildlife Resources page.
WHAT ARE THE KENTUCKY TAGGING REQUIREMENTS?
Certain game animals must be logged and tagged after they're taken, including big game animals such as deer, elk, bear, and turkey, as well as some fur-bearing animals including bobcat and otter. It's important for hunters to understand the tagging and/or harvest reporting requirements for the game animal they're hunting, and to ensure that the animal is tagged and reported properly. 
Harvest Log Requirements
Harvest log requirements apply to hunters who have successfully taken any deer, elk, turkey bear, bobcat, or otter.  All successful hunters of these game animals must fill out a harvest log immediately after the animal is taken, before the carcass may be transported. 
The harvest log will be located on the back of the paper license or permit obtained to hunt the animal. The hunter must complete the harvest log by marking the box for the species taken and filling in the date, county, and sex of the animal. 
Once the harvest log is complete, the hunter will need to obtain a telecheck confirmation number by calling 1-800-245-4263 and reporting their harvest, or using the online Telecheck system. Once the animal has been properly checked, the telecheck confirmation number must be noted on the harvest log.
Carcass Tags
If a hunter plans to transfer possession of a taken deer, elk, turkey, bear, bobcat or otter, the carcass must be tagged. Tags within the state of Kentucky must be hand-made and filled out with the hunter's name, phone number and telecheck confirmation number before possession may be transferred to another person.  
WHAT ARE THE HUNTER ORANGE REQUIREMENTS IN KENTUCKY?
All hunters and any person accompanying a hunter, who is hunting any species during the modern firearms season, muzzleloading season, youth firearms season, or during the elk or bear firearms seasons is required to wear solid unbroken hunter orange clothing that is visible on all sides. The hunter orange garments must be visible on the head, back, and chest. 
The hunter orange clothing may be constructed of a mesh material, as long as the openings within the weave are no wider than ¼ inch. The garments may display a small portion of another color (ex. a logo). Camouflage orange patterns are not permitted unless they are accompanied by solid-colored hunter orange on the head, back, and chest. 
WHAT ARE THE BAG LIMITS IN KENTUCKY?
Bag limits are imposed on hunters to restrict the number of a particular game animal that can be taken. Bag limits may be daily or seasonal depending on the type of animal. For example, daily bag limits may be imposed which restrict the number of a particular game animal that may be taken within a hunting day, whereas seasonal bag limits restrict the number of a particular game animal that may be taken by a hunter within the hunting season. 

Bag limits may vary annually depending on game species populations. Hunters must understand and follow bag limit restrictions. Violations may result in fines. For more information on bag limits visit the Kentucky Department of Fish and Wildlife Resources website.

GAME AND NON-GAME SPECIES
GAME SPECIES
Kentucky offers a wide variety of game species for all types of hunters. The state's varied landscape results in a variety of habitats and ecosystems which are home to big and small game, waterfowl and a variety of furbearers. Some of the game species in Kentucky include: 
Big game including white-tailed deer, elk, turkey, and bear 

Small game including squirrel, grouse, quail, and rabbit

Waterfowl and other migratory game birds including ducks, geese, and dove.

Furbearers including bobcat, river otter, bear, fox, raccoon, and opossum.
NON-GAME SPECIES
Nongame species within Kentucky make up a significant portion of the state's wildlife and include mammals, birds, fish, reptiles, amphibians, and invertebrates which typically may not be hunted, are considered a nuisance, or are protected, endangered, or at risk. There is, unfortunately, a lengthy list of endangered, protected, and threatened species within the state. For more information on nongame, and endangered species within the state visit the Kentucky Department of Fish and Wildlife Resources website. 
INVASIVE SPECIES
Invasive animals and other pests have been introduced to the United States, including the State or Kentucky, and have become a threat to native wildlife. These animals, plants, fish, and invertebrates typically have no natural predators which can result in rapid spread and population growth. This in turn can seriously harm the state's lands and waters, and can be detrimental to the health and population numbers of a variety of the state's native plants and animals. Some common invasive species in Kentucky include zebra mussels, purple loosestrife, common reed, chickweed, emerald ash borer, and the feral hog. 

In order to protect Kentucky's native plants and animals, invasive species must be controlled and eradicated. Anyone who encounters or suspects that they have encountered an invasive species within the state is encouraged to report the sighting so that it can be monitored and controlled. For information on how to report various types of invasive species in Kentucky visit the Kentucky Department of Fish and Wildlife Resources Nuisance Species Plan page.

KENTUCKY HUNTING SEASONS
Hunting seasons and dates may change annually per game animal, depending on a variety of factors. Season dates are further broken out, region or Wildlife Management Units (WMUs). Additionally, seasons are often categorized by firearm time, including archery, firearms, and muzzleloader or "primitive" firearms seasons.
HUNTING ON PUBLIC OR PRIVATE LAND
PRIVATE LAND
Much of the land in Kentucky is privately owned. Hunters can typically freely take game animals hunted on their own private property, or may seek permission from a landowner to hunt on private property. Hunters who wish to take game on privately owned land must follow state hunting regulations as well as any regulations specified by the landowner. Hunters must ensure they respect the rights and property of the landowner at all times.
PUBLIC LAND
There are hundreds of thousands of acres of public lands open to hunting within the state of Kentucky. These lands include Wildlife Management Areas, Hunting Access Areas, State Parks and Forests, and national recreational areas. 
Public lands within the state are typically open for a variety of types of outdoor recreational activities including hunting, wildlife watching, hiking, biking, and horseback riding, among others. 
State-managed public lands may have specific regulations that apply to hunters and other recreational land users. Hunters must understand and follow any regulations or restrictions that apply within these areas. For more information on public lands that are open to hunting within the state of Kentucky, vist the Kentucky Department of Fish and Wildlife Resources Public Hunting Areas page.
Wildlife Management Areas
Hunting in Kentucky's Wildlife Management Areas
Wildlife Management Areas (WMAs) within the state of Kentucky are managed by the Kentucky Department of Fish and Wildlife Resources. These lands are managed for conservation purposes, fish, and wildlife resources management,  and are open to the public multiple outdoor recreational opportunities including hunting, angling, ATVing, wildlife watching, and bird watching, among others.  
WMA Regulations
Certain regulations and restrictions may apply to hunters who take game within WMAs. Some of these regulations may include:
Check-in hunt requirements

Restrictions on certain recreational activities

Hunter orange requirements

Camping restrictions

Vehicle use restrictions
The Bluegrass State. Ready and rarin' to go.

Where to Hunt in Kentucky
With millions of acres of land, diverse habitats and landscapes, and a variety of big and small game, game birds, and fur bearing animals, the state of Louisiana has plenty to offer to hunters. The state is particularly well known as a stop-over for migratory birds, which means there are plenty of waterfowl hunting opportunities. Elk hunting is another popular game animal within the state – if you're lucky enough to draw a tag. 
Deer hunters won't have to look far for their prey – in fact, populations can be as high as 23 deer per-square mile. The state has several counties and public hunting spaces that are popular for deer hunters. One of the state's top spots is Pendleton County, which consistently has abundant deer populations and strong harvest numbers – not to mention it's located in the state's Bluegrass Region, which is known overall as prime hunting territory for a variety of species. 
Another overall top destination for Kentucky hunters in the Daniel Boone National Forest. Much of the forest is open to public hunting, and there are plenty of game species who've made the forest their home including deer, turkey, elk, grouse, quail, and squirrel to name a few. The forest itself is also home to five Wildlife Management Areas including Cane Creek WMA, Mill Creek WMA, Pioneer Weapons WMA, Beaver Creek WMA, and Redbird WMA. 
Helpful resources for Hunting in Kentucky