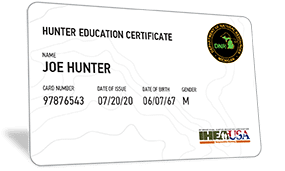 AGE REQUIREMENTS FOR MICHIGAN HUNTERS
Every hunter in Michigan who was born on or after January 1st, 1960 is required to complete Hunter Education Certification. There is no minimum age to get certified.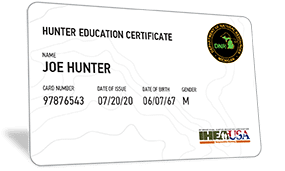 MICHIGAN HUNTING EDUCATION REQUIREMENTS
WHAT IS A MICHIGAN HUNTER SAFETY CERTIFICATE
A Hunter Safety Certificate proves that you've obtained the knowledge you need to hunt safely and ethically in Michigan. Any person born on or after January 1st, 1960 is required to get certified to hunt within the state. 
WHERE CAN I GET MY MICHIGAN HUNTER SAFETY CERTIFICATE?
Hunter Safety Certificate may be obtained by completing either a classroom-based or online course. Upon completing either the classroom or online courses, a field day course is required, so that hunters can demonstrate their knowledge. Upon completing both portions of the course, the hunter will be issued their Hunter Safety Certificate. 
Online courses are available to hunters of all ages, and typically take about 4-6 hours to complete. Upon completing the online course, the hunter will be eligible to complete the skills/field portion of the course which includes a written test. Once the test has been successfully completed the hunter will be issued their Hunter Safety Certificate, and will be eligible to purchase a hunting license. 
Note: Hunters who wish to complete the hunter education course online, must register for a field course in advance of registering for the online course.

Hunters may also choose to complete a traditional classroom course. To find a classroom course near you visit the DNR's Recreation Safety Education Class Database.
HOW OLD DO I HAVE TO BE TO GET A HUNTER SAFETY CERTIFICATE IN MICHIGAN?
There is no minimum age to get certified with your Michigan Hunter Safety Certificate. 
AGE AND SUPERVISION REQUIREMENTS
There are no minimum age restrictions who youth hunters in Michigan, however there are mentored youth programs available for hunters who are 9 years of age and younger, and who are 10 years of age or older.
Who is exempt from having to obtain a Michigan Hunter Education Certificate?
Hunters born prior to January 1st, 1960
Hunters who are 9 years of age or younger who choose to participate in the Mentored Youth Hunting Program
Hunters 10 years of age or older who purchase a base apprentice license, and are directly supervised by an adult ho is 21 years of age or older
Is my Michigan Hunter Education Certificate valid in other states?
Yes. The Michigan Hunter Safety Certificate is accepted in all states, provinces, and countries that have mandatory hunter education requirements. Although most regions will accept the Michigan Hunter Education Certificate, hunters should always be sure to check the rules and regulations of the region where they plan to hunt.

HUNTING LICENSES, STAMPS AND PERMITS
HUNTING LICENSES
A Hunting License is required in the state of Michigan to hunt any game animal. There are a variety of hunting license types available, depending on the type of game being hunted. License pricing and type may also vary depending on the age of the hunter (ex. Youth, adult, and senior license types). 
BASE LICENSE
An annual base license is required for any resident or non-resident who hunts within the state of Michigan. This license type permits the hunter to take small game animals. To hunt other game types the appropriate license type must be purchased, in addition to the base license. The base license is available for junior hunters, residents, non-residents and seniors. 
OTHER LICENSE TYPES
Other license types available in the state are broken down by game type, making them fairly self-explanatory. The license allows the hunter to take the named game animal type. They include:
Antlerless Deer
Junior Antlerless Deer
Antlerless Deer Managed Areas Hunts
Bear
Deer
Deer Combo
Elk (residents only)
Fur Harvester
Spring Turkey
Fall Turkey
Waterfowl 
For a full list of available license types and costs visit the Michigan Department of Natural Resources (DNR) Website. 
MICHIGAN HUNTER CERTIFICATION AGE REQUIREMENTS

9 YEARS OF AGE AND YOUNGER
Youth who are 9 years of age and younger may choose to participate in the Mentored Youth Hunting Program. The program is designed to encourage participation in outdoor recreation and provide youth hunters with the opportunity to learn first-hand from an experienced mentor. The program also resulted in the elimination of a minimum hunting age within the state, and allows parents to determine when their child is ready and mature enough to begin participating in the sport. 
While youth who participate in the mentored youth hunting program are not required to complete a hunter safety course, it is strongly encouraged. 

10 YEARS OF AGE AND OLDER
Completion of a hunter safety course is mandatory for hunters who are 10 years of age and older who were born on or after January 1st, 1960. However, youth in this age group may decide to forgo hunter education for a period up to 2 years by purchasing a base apprentice license. The base apprentice license allows the hunter to participate in the sport while under the direct supervision of a parent or guardian, a designated person chosen by a parent or guardian, or a certified hunter who is 21 years of age or older. 
The base apprentice license is available to both residents and non-residents and permits the holder to hunt small game species. If the hunter wishes to hunt other types of species they must obtain the appropriate license type. 

MENTORS AND SUPERVISORS
The mentor or apprentice supervisor must:
Be 21 years of age or older
Have completed a hunter education safety course, if they are required to do so
Possess the required licenses and permits for the type og game being hunted
Accompany no more than 2 apprentices
Be able to come to the immediate aid of the apprentice
Stay within a distance that permits uninterrupted and unaided visual and verbal contact
To learn more about mentored youth hunting programs, visit the Michigan Department of Natural Resources Mentored Youth and Apprentice Hunting Program webpage. 

Michigan's Hunting Fines

Failure to carry Hunter Education Certificate or deferral
Up to $500

Hunting without the required license or permit
Up to $500

Illegally taking deer, bear, or wild turkey
Up to $1000
Carrying a firearm while under the influence of alcohol
Up to $500

Illegal use of an artificial light source, when hunting with a firearm
Up to $500
DO I NEED A HUNTING LICENSE TO HUNT WITHIN THE STATE OF MICHIGAN?
Yes. A Hunting License is different from a Hunter Education Certificate and is required for any person, of any age who hunts within the state. This includes both residents and non-residents. Varying licenses must be purchased and carried depending on the hunters age, residency, and the type of game being hunted. Certain exceptions may apply depending on the game animal being hunted. For more information on Michigan hunting licenses visit the Michigan Department of Natural Resources (DNR) Website. 
WHAT ARE THE MICHIGAN TAGGING REQUIREMENTS?
Certain game animals must be tagged after they're taken, including big game animals such as deer, elk, bear, and turkey. It's important for hunters to understand the tagging and/or harvest reporting requirements for the game animal they're hunting, and to ensure that the animal is tagged and reported properly. 
Tagging Requirements for Big Game
Big game animals that are taken within the State of Michigan must be tagged. This includes deer, bear, elk, and turkey. These animals must be tagged immediately after being killed and before being moved. The state recommends the following method when tagging big game animals: 
A strong piece of wire or cord should be attached to the sticky side of the kill tag. The tag can then be folded in half around the code or wire. The wire or cord can then be tied around the animal's antler, lower jaw or lower leg in a secure manner. Hunters should not attempt to stick the tag directly to the animal. The tag must be legible and visible for inspection. The tag must remain securely attached to the animal until it is processed or butchered. 
Game Species Surveys
The Michigan Department of Natural Resources conducts surveys following each hunting season. Surveys are conducted on the hunting of game species within the state including deer, bear, elk, grouse and woodcock, pheasant and quail, small game and furbearers, turkey, waterfowl and other miscellaneous animal types. 
The conduction of these survey's aids in determining hunter participation within the state, as well as harvest estimates and hunting effort. 
WHAT ARE THE HUNTER ORANGE REQUIREMENTS IN MICHIGAN?
Hunters within the state of Michigan who hunt within established daylight shooting hours from August 15th – April 30th are required to wear hunter orange. This may include a cap, hat, vest, jacket, or orange rain gear. The hunter orange clothing must be worn as the outermost piece of clothing to ensure it is visible, on all sides, to other hunters. This may include camouflage so long as the material contains at least 50% orange within the print. 
ARE THERE ANY HUNTER ORANGE EXEMPTIONS?
The only exceptions to these regulations apply to:
A hunter who is taking deer with a bow or crossbow during the designated archery season, 
A hunter taking bear with a bow or crossbow
A hunter taking a turkey crow or migratory game bird (excluding woodcock)
A person engaged in falconry
A person hunting bobcat, coyote or fox in a stationary position
WHAT ARE THE BAG LIMITS IN MICHIGAN?
Bag limits are imposed on hunters to restrict the number of a particular game animal that can be taken. Bag limits may be daily or seasonally depending on the type of animal. For example, in Michigan daily bag limits are imposed for ruffed grouse (5 per day). Seasonal bag limits restrict the number of a particular game animal that may be taken by a hunter within the hunting season. 
Bag limits may vary annually depending on game species populations. Hunters must understand and follow bag limit restrictions. Violations may result in fines. For more information on bag limits visit the Michigan DNR website.

GAME AND NON-GAME SPECIES
GAME SPECIES
There are a wide variety of game species available for hunting in Michigan. The state itself has a wide and varied landscape which results in innumerable habitats and ecosystems for all types of wildlife, including a large number of game animals. Game species include popular game animals such as white-tailed deer, turkey, bear, elk, and a variety of waterfowl. There are also a variety of small game species and furbearers for those interested in trapping. Michigan is also well known for upland game hunting opportunities including a variety of pheasant and grouse species. 
NONGAME SPECIES
Nongame species are typically categorized as wildlife species which may not be hunted, or which are considered to be endangered, threatened, or protected. In Michigan, there are several nongame species that are protected for a variety of reasons including, cougars, sandhill cranes, and grey wolves (among many others). There is a long list of protected, endangered, and threatened species within the state. Hunters are not permitted to hunt any protected, endangered, or threatened species.
INVASIVE SPECIES
Invasive species are spreading throughout Michigan and are a threat to its native plants and animals. With few natural predators, or none at all, invasive species have the opportunity to spread rapidly and wreak havoc on the natural environment. 
Invasive species in Michigan include the emerald ash borer, feral hogs (swine), gypsy moths, and common buckthorn  among many others. 
Sightings of invasive species should be reported, to help aid in their control and elimination. For information on where and how to report various types of invasive species in Michigan, visit the Michigan Invasive Species website.  

MICHIGAN HUNTING SEASONS
Hunting seasons and dates may change annually per game animal, depending on a variety of factors, such as game animal populations and hunter participation. Season dates are further broken out by region or "zone". Additionally, seasons are often categorized by firearm type, including archery, firearms, and muzzleloader or "primitive" firearms seasons. Hunters must ensure that they're familiar with the season dates and hunting hours the apply within their region, county, or zone. 
HUNTING ON PUBLIC OR PRIVATE LAND
PRIVATE LAND
Much of the land in Michigan is privately owned. Hunters can typically freely take game animals hunted on their own private property, or may seek permission from a landowner to hunt on private property. Hunters who wish to take game on privately owned land must follow state hunting regulations as well as any regulations specified by the landowner. Hunters must ensure they respect the rights and property of the landowner at all times. 
Michigan Hunting Access Program (HAP)
The Michigan DNR has partnered with private landowners to provide additional hunting opportunities and land access throughout the state, under the Hunting Access Program. The program was originally established in 1977 to provide additional land access to hunters in southern Michigan. The program has since expanded to more regions of the state, resulting in a vast number of hunting opportunities on private land. 
Hunters should note that additional regulations apply when hunting on HAP lands. HAP lands are lands that are privately owned, and grant access to hunters. Hunting on these lands is a privilege, and hunters are reminded that and rules laid out by the landowners must be followed. Private lands and landowners must be respected in order to ensure the continued success of the program. For a complete list of regulations that apply on HAP Lands, visit the Michigan DNR Hunting Access Program webpage.   
PUBLIC LAND
There is an abundance of public land spaces open to hunters in Michigan – in fact, the state offers over 10 million acres of public hunting lands. The Michigan Department of Natural Resources offers a variety of resources, tools, and maps to help hunters find a hunting location for multiple game species. Hunters can access multiple interactive and downloadable maps, making it incredibly easy to find hunting land. 
MI-HUNT INTERACTIVE MAP
This resource provides an interactive map illustrating the approximate boundaries of both public and private lands that are open to hunting. The map also includes locations where hunters can find trails, cover, and recreational facilities, making it a great resource for planning your hunting trip. 
What Are Wildlife and Game Areas?
The State of Michigan offers over 340,000 acres across more than 100 units within the game and wildlife system, much of which is open to hunting. These areas offer dozens of outdoor recreation opportunities including hunting, wildlife watching, hiking and cross country skiing, and boating access areas. 
Wildlife & Game Area Regulations
Wildlife Management Areas within the state are managed by the Michigan Department of Natural Resources. Additional rules and regulations may apply to hunters within these spaces. Additional rules and regulations that apply within Michigan's WMAs include: 
"Safety zone" regulations which restrict hunting within a certain distance of any structure
Game animal carcass disposal restrictions
Alcoholic beverage restrictions
Restrictions against the use of specific firearm types in certain areas
Great Lakes State. Ready and rarin' to go.

Where to Hunt in Michigan
Michigan is known throughout the United States as a top destination for deer hunting. Whether you're in search of an area to take trophy buck, or are focused on filling your freezer, the wide variety of lands and habitats, and the stellar deer population will ensure that you find the perfect deer hunting spot. Top locations for deer hunting within the state include Bay County, Osceola County, and Saginaw County. Each of these counties boasts thousands of deer taken per season, and higher annual harvest rates. 
Although deer may be top of mind for some hunters, Michigan's game animals include dozens of other species. Game birds, including migratory species, waterfowl, and upland birds are another big draw for hunters in Michigan. 
Game birds within the state include various species of geese and ducks, plus grouse, woodcock, and pheasant. Most of these game birds can be found across the state, but top spots will depend on the type of species – for ruffed grouse, focus your attention on the upper peninsula – particularly the western side within Gogebic County. For waterfowl, hunters should set their sites on lower Michigan, which contains 7 waterfowl management areas all of which are top spots for waterfowl hunters. 
Helpful resources for Hunting in Michigan