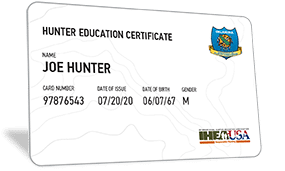 AGE REQUIREMENTS FOR OKLAHOMA HUNTERS
Every hunter in Oklahoma who is 30 years of age or less is required to complete Hunter Education Certification. The recommended minimum age for certification is 10 years of age.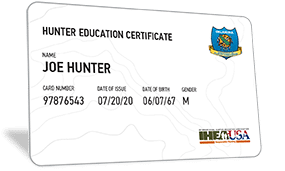 OKLAHOMA HUNTING EDUCATION REQUIREMENTS

HUNTING LICENSES, STAMPS, AND PERMITS
HUNTING LICENSES
A Hunting License is required in the state of Oklahoma to hunt any game animal. There are a variety of license types available depending on your age, residency status, and what type of game you plan to hunt. Some of the hunting license types in Oklahoma include:   
Resident Licenses
Resident licenses are available to anyone who has had an established residence in Oklahoma for 60 consecutive days or more. There are a variety of resident license types available including senior and 5-year licenses. The types of resident licenses available may vary depending on how long the hunter has been a resident of the state.
Non-resident Licenses
Non-resident license types are available to hunters who reside in another state, or those who have lived in Oklahoma for less than 60 consecutive days. There are a wide variety of non-resident license types available including deer licenses and youth licenses, in addition to licenses for elk, antelope, turkey and trapping.
Life-time and 5-Year License Types 
For avid hunters a lifetime license or 5-year license type may be ideal. Hunters must be residents of the state of Oklahoma to purchase these license types. Additionally, the residency period for these license types is slightly longer and is available only to residents who have lived within the state for 6 months or more.
OKLAHOMA HUNTER CERTIFICATION AGE REQUIREMENTS

UNDER 10 YEARS OF AGE
Youth who are less than 10 years of age may not obtain Hunter Education Certification in Oklahoma, however they may obtain an apprentice-designated hunting license which permits them to hunt while under the direct supervision of an accompanying hunter.

30 years of age or younger
Hunters who are 30 years of age or less must obtain a Hunter Education Certificate to legally hunt within the state of Oklahoma. Hunters within this age group who are not certified may also choose to purchase an apprentice-designate hunting license type, which permits them to hunt under the supervision of an accompanying hunter.

31 years of age or older
Hunters within this age group are not required to obtain hunter education certification to hunt or purchase a hunting licence within the state of Oklahoma.

Accompanying Hunter Requirements
Hunters who are not yet certified with their Hunter Education Certificate and are hunting using an apprentice-designated hunting license type must be supervised by an "accompanying hunter". An accompanying hunter must be 18 years of age or older and possess a hunting license. They must also have obtained hunter education certification, unless they are exempt, 
When hunting big game the accompanying hunter must be within arm's length of the apprentice, and close enough to take immediate control of their firearm. When hunting small game the accompanying hunter must be within sight of the apprentice and must be able to communicate with them within normal voice control. 

Oklahoma's Hunting Fines

Hunting without a License or Permit
Up to $500

Head-lighting
Up to $500

Big game species regulations violations
Up to $1,500

Hunting outside of designated hunting hours
Up to $5,000

Taking protected species
Up to $200
DO I NEED A HUNTING LICENSE TO HUNT WITHIN THE STATE OF OKLAHOMA?
Yes. A Hunting License is different from a Hunter Education Certificate and is required for any person who hunts any game animal within the state. This includes both residents and non-residents. Varying licenses must be purchased and carried depending on the hunter's age, residency, and the type of game being hunted. Certain exceptions may apply depending on the game animal being hunted. For more information on Oklahoma, hunting licenses visit the Oklahoma Department of Wildlife Conservation website. 
WHAT ARE THE OKLAHOMA TAGGING REQUIREMENTS?
Certain game animals must be tagged after they're taken, including big game animals such as deer, elk and antelope. It's important for hunters to understand the tagging and/or harvest reporting requirements for the game animal they're hunting, and to ensure that the animal is tagged and reported properly. 
Tagging
Immediately upon harvesting a deer, elk, or antelope within the state of Oklahoma, a field tag must be securely attached to the carcass of the animal. The tag must state the hunter's name, customer ID number, or lifetime hunting license number, in addition to the date and time of the harvest. 
Field tag information can be written on any item, so long as the correct information is clearly stated. The tag must remain attached to the carcass until the harvest is checked. 
Checking Requirements
In addition to tagging all deer and elk must be "checked" using the Oklahoma e-check system, within 24 hours of being moved from the hunting area. Hunters can checK their harvest online at the Oklahoma DWC website, using the Go Outdoor Oklahoma app, or by contacting an authorized department employee. 
Antelope must be checked within 24 hours of being moved from the hunt area, using an open check station or with an authorized department employee within a county where antelope may be hunted. Open check stations for antelope are available in Cimarron and Texas counties. 
WHAT ARE THE HUNTER ORANGE REQUIREMENTS IN OKLAHOMA?
A minimum of 400 square inches of hunter orange, that is clearly visible, must be worn by all hunters participating in antelope, bear, deer, or elk seasons when using a firearm (either a gun or muzzleloader). The orange clothing must include an outer garment worn above the waist as well as a head covering. 
Camouflage hunter orange is also accepted within state regulations, so long as the orange material totals 400 square inches. 
All other hunters including trappers and those hunting with archery during any deer, bear, elk or antelope firearms seasons within any open hunting area are required to wear either a head covering or outer garment above the waist consisting of hunter orange. 
Exceptions:
Hunters are exempt from the hunter orange requirements when hunting:
Waterfowl

Crow

Crane

Fur-bearing animals at night
WHAT ARE THE BAG LIMITS IN OKLAHOMA?
Bag limits are imposed on hunters to restrict the number of a particular game animal that can be taken. Bag limits may be daily or seasonal depending on the type of animal. For example, in daily bag limits may be imposed which restrict the number of a particular game animal which may be taken within a hunting day. Seasonal bag limits restrict the number of a particular game animal that may be taken by a hunter within the hunting season. 
Bag limits may vary annually depending on game species populations. Hunters must understand and follow bag limit restrictions. Violations may result in fines. For more information on bag limits visit the Oklahoma DWC website.

GAME AND NON-GAME SPECIES
GAME SPECIES
Oklahoma offers a wide variety of game species for all types of hunters. The state's geographical location – nestled between the Great Plains and the Ozark Plateau results in varied landscapes, from expansive fields and plains to lush woodlands, and mountains. The resulting habitats are diverse and full of wildlife, including game species.    
Game species in Oklahoma are categorized as follows:
Big game including deer, elk, bear, pronghorn antelope and turkey

Small game including rabbit, squirrel, woodcock, and rails. 

Waterfowl and other migratory game birds including ducks, geese, and dove.

Furbearers including beaver, nutria, raccoon, skunk, bobcat, fox, and mink, among others.
NON-GAME SPECIES
Nongame species within Oklahoma make up a significant portion of the state's wildlife and include mammals, birds, fish, reptiles, amphibians, and invertebrates which typically may not be hunted, are considered a nuisance, or are protected, endangered, or at risk. There is, unfortunately, a lengthy list of endangered, protected, and threatened species within the state. For more information on nongame, and endangered species within the state visit the Oklahoma DWC Threatened and Endangered Species page.  
INVASIVE SPECIES
Invasive animals and other pests have been introduced to the United States, including the State of Oklahoma, and have become a threat to native wildlife. These animals, plants, fish, and invertebrates typically have no natural predators which can result in the rapid spread and population growth. This in turn can seriously harm the state's lands and waters and can be detrimental to the health and population numbers of a variety of the state's native plants and animals. Some common invasive species in Oklahoma include Asian Carp, emerald ash border, gypsy moth, wood wasp, and feral hog.
In order to protect Oklahoma's native plants and animals, invasive species must be controlled and eradicated. Anyone who encounters or suspects that they have encountered an invasive species within the state is encouraged to report the sighting so that it can be monitored and controlled. For information on how to report various types of invasive species in Oklahoma visit https://www.okinvasives.org/

OKLAHOMA HUNTING SEASONS
Hunting seasons and dates may change annually per game animal, depending on a variety of factors. Season dates are further broken out, region or "zone"  Additionally, seasons are often categorized by firearm time, including archery, firearms, and muzzleloader or "primitive" firearms seasons.
HUNTING ON PUBLIC OR PRIVATE LAND
PRIVATE LAND
Much of the land in Oklahoma is privately owned. Hunters can typically freely take game animals hunted on their own private property, or may seek permission from a landowner to hunt on private property. Hunters who wish to take game on privately owned land must follow state hunting regulations as well as any regulations specified by the landowner. Hunters must ensure they respect the rights and property of the landowner at all times.
OKLAHOMA LAND ACCESS PROGRAM
The Oklahoma Land Access Program is administered by the Oklahoma Department of Wildlife Conservation. The goal of the program is to provide more access to hunting lands within the state by providing financial incentives to private landowners who open their properties for public access for hunting, fishing, and wildlife watching opportunities.  
For more information on how to participate in the program as a landowners, or to find land access program maps, visit the Oklahoma DWC Land Access Program page. 
PUBLIC LAND
There are hundreds of thousands of acres of public lands to explore and enjoy in the state of Oklahoma. Many of these state-managed lands are open to hunting and contain a wide variety of habitats and game species. Public hunting lands are spaces that are designated for wildlife management and to ensure hunting and trapping opportunities within the state, including state forests, wildlife management areas (WMAs), and certain designated state parks. 
State-managed lands may have specific rules and regulations in place that must be followed by all land users. State lands may also be used for other recreational purposes including horseback riding, hiking, bicycling, and birdwatching among others.
For more information on the rules and regulations that apply to hunters and other recreational users of state lands, visit the Oklahoma DCW website and view the most recent seasons regulations booklet.
WILDLIFE MANAGEMENT AREAS
Hunting in Oklahoma's Wildlife Management Areas
There are more than 80 Wildlife Management Areas throughout the state of Oklahoma encompassing hundreds of thousands of acres of lands open for public hunting use. Wildlife Management Areas are dedicated lands that are managed by the Oklahoma Department of Wildlife Conservation for the purpose of conservation, land management, and habitat management. These spaces are also open for a variety of outdoor recreational activities including bird and wildlife watching, hiking and of course, hunting. 
WMA Regulations 
Specific regulations may apply to those using WMAs for recreational purposes, including: 
Camping restrictions

Baiting restrictions

Controlled hunt restriction

Prohibition of installing a permanent deer stand or structure

Dog training regulations for the purpose of hunting

Restrictions on the use of fireworks 
WMA Permits
While there are typically no specific permits required to hunt within Oklahoma's Wildlife Management Areas, hunters must ensure they have all of the appropriate licenses and permits required to hunt their intended game-species. 
The Sooner State. Ready and rarin' to go.

Where to Hunt in Oklahoma
Deer, antelope, elk, bear, turkey, duck… With so many game animals to choose from, deciding what to hunt and where to find it in Oklahoma can be a challenge. Whether you're stalking deer through the woods, hunkered down in a blind waiting for a gobbler, or laid out eyes-to-the-sky calling in a  string of ducks, Oklahoma will have the perfect spot to find your game.  
If you're in search of the thrill of taking down a big lumbering bear, your search-area will be limited to certain counties. Head south to Choctaw County, where you'll find plenty of private and public lands, including multiple state parks, and a hunting preserve. 
Deer hunters – make your way towards Osage County, along the Kansas border – where Pope & Young Records takes tends to be high, and deer populations are strong. There's plenty of private lands and public space as well, including the Osage WMA. 
If you prefer migratory feathered game – ducks specifically, Eufaula Lake is prime territory for duck hunting. It spans a massive 100,000+ acres and is historically one of the state's top spots for duck takes annually. It features plenty of surrounding green space, and bays to tuck away and call in your birds. 
Helpful resources for Hunting in Oklahoma