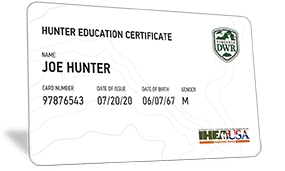 AGE REQUIREMENTS FOR VIRGINIA HUNTERS
Every hunter in Virginia who is 12-15 years of age is required to complete Hunter Education Certification to legally hunt within the state.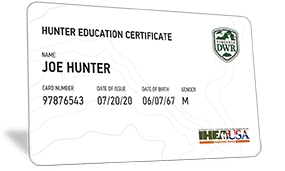 VIRGINIA HUNTING EDUCATION REQUIREMENTS

HUNTING LICENSES, STAMPS, AND PERMITS
HUNTING LICENSES
A Hunting License is required in the state of Virginia to hunt any game animal. There are a variety of license types available depending on your age, residency status, and what type of game you plan to hunt. Some of the hunting license types in Virginia include:   
Resident Hunting License
The resident hunting license is a base license, meaning that additional licenses and permits are required depending on the type of game animal being hunted. There are a variety of resident hunt license types available including 1, 2, 3, and 4-year licenses and junior licenses, among others. Hunters should ensure that they have obtained all of the necessary licenses and permits required before taking any game animal. 
Resident Sportsman License
This license is available to Virginia residents and permits the holder the same privileges a hunting license, bear license, deer/turkey license, archery license, and muzzleloading license, in addition to some fishing privileges. Additional licenses and permits may still be required. 
Non-resident licenses
There are a variety of non-resident license types available which offer a variety of hunting privileges including junior and adult license types, deer/turkey licenses, bear licenses. Fees for non-resident license types may vary. All hunters should ensure that they've obtained the required license types before taking any game.
VIRGINIA HUNTER CERTIFICATION AGE REQUIREMENTS

11 years of age or younger
Hunters who are 11 years of age or younger are not required to obtain hunter education certification, of a hunting license, in order to hunt within the state of Virginia. However, they are required to be supervised by a licensed adult at all times while hunting.  

12-15 years of age
Hunters who 12-15 years of age are required to obtain hunter education certification in order to legally hunt within the state of Virginia. 

Virginia's Hunting Fines

Hunting without a license
Up to $121

Hunting in a state park or forest without a special use permit
Up to $100

Blaze orange violations
Up to $86

Unlawfully possessing, or transporting carcasses
Up to $161

Bg limit vilations
Up to $111
DO I NEED A HUNTING LICENSE TO HUNT WITHIN THE STATE OF VIRGINIA?
Yes. A Hunting License is different from a Hunter Education Certificate and is required for any person who hunts any game animal within the state. This includes both residents and non-residents. Varying licenses must be purchased and carried depending on the hunter's age, residency, and the type of game being hunted. Certain exceptions may apply depending on the game animal being hunted. For more information on Virginia, hunting licenses visit the Virginia Department of Wildlife Resources website. 
WHAT ARE THE VIRGINIA TAGGING REQUIREMENTS?
Certain game animals must be tagged after they're taken, including big game animals such as deer, elk, bear, and turkey. It's important for hunters to understand the tagging and/or harvest reporting requirements for the game animal they're hunting, and to ensure that the animal is tagged and reported properly. 
Tag Validation Requirements
Upon harvesting and tagging big game animals, the tag must be validated before the carcass can be moved. Tag validation can be completed electronically, or by manually notching the tag. For hunters who have access to the Go Outdoors Virginia app can electronically validate their tag by logging into the app, selecting the appropriate license, and touching the appropriate notch area to electronically notch the tag. For paper tags, the hunter must manually notch the appropriate area on the paper tag.  
WHAT ARE THE HUNTER ORANGE REQUIREMENTS IN VIRGINIA?
All hunters and any person accompanying a hunter in Virginia who hunts any species during the deer firearms season and during youth/apprentice deer hunting season is required to wear:
a solid blaze orange or pink hat or 

solid colored clothing that is visible on their upper body from 360 degrees, or 

display at least 100 square inches of solid blaze orange material at shoulder level within reach and visible from 360 degrees. 
Hats worn to meet the hunter orange requirements may not be a camouflage colour.
WHAT ARE THE BAG LIMITS IN VIRGINIA?
Bag limits are imposed on hunters to restrict the number of a particular game animal that can be taken. Bag limits may be daily or seasonal depending on the type of animal. For example, daily bag limits may be imposed which restrict the number of a particular game species which may be taken per hunting day, while seasonal bag limits restrict the number of a particular game animal that may be taken by a hunter within the hunting season. 
Bag limits may vary annually depending on game species populations. Hunters must understand and follow bag limit restrictions. Violations may result in fines. For more information on bag limits visit the Virginia Department of Wildlife Resources website. 

GAME AND NON-GAME SPECIES
GAME SPECIES
Virginia offers a wide variety of game species for all types of hunters. Some of the game species in Virginia include: 
Big game including deer, black bear, elk and turkey.
Small game including grouse, rabbit, squirrel, and woodcock. 
Waterfowl and other migratory game birds including ducks, geese, and dove.
Furbearers including bobcat, fisher, fox, coyote among others.
NON-GAME SPECIES
Nongame species in Virginia make up a majority of the state's wildlife and include mammals, birds, fish, reptiles, amphibians, and invertebrates which typically may not be hunted, are considered a nuisance or are protected, endangered, or at risk. There is, unfortunately, a lengthy list of endangered, protected, and threatened species within the state. For more information on nongame, and endangered species within the state visit the Virginia Department of Wildlife Resources website. 
INVASIVE SPECIES
Invasive animals and other pests have been introduced to the United States, including the State of Virginia, and have become a threat to native wildlife. These animals, plants, fish, and invertebrates typically have no natural predators which can result in rapid spread and population growth. This in turn can seriously harm the state's lands and waters, and can be detrimental to the health and population numbers of a variety of the state's native plants and animals. Some common invasive species in Virginia include Brown Marmorated Stinkbug, emerald ash borer and chineses mitten crab among others. 
In order to protect Virginia's native plants and animals, invasive species must be controlled and eradicated. Anyone who encounters or suspects that they have encountered an invasive species within the state is encouraged to report the sighting so that it can be monitored and controlled. For information on how to report various types of invasive species in Virginia visit the Virginia Department of Conservation and Recreation website. 

VIRGINIA HUNTING SEASONS
Hunting seasons and dates may change annually per game animal, depending on a variety of factors. Season dates are further broken out, region or Wildlife Management Units (WMUs). Additionally, seasons are often categorized by firearm time, including archery, firearms, and muzzleloader or "primitive" firearms seasons.
HUNTING ON PUBLIC OR PRIVATE LAND
PRIVATE LAND
Much of the land in Virginia is privately owned. Hunters can typically freely take game animals hunted on their own private property, or may seek permission from a landowner to hunt on private property. Hunters who wish to take game on privately owned land must follow state hunting regulations as well as any regulations specified by the landowner. Hunters must ensure they respect the rights and property of the landowner at all times. 
PUBLIC LAND
There are more than 2.5 million acres of accessible lands, many of which are open to hunting, across the state of Virginia. These lands are typically managed by the Virginia Department of Wildlife Resources with the purpose of providing wildlife an habitat management, in addition to providing hunting opportunities across the state. 
State-managed lands may have specific rules and regulations in place that must be followed by all land users, including hunters and those participating in other recreational outdoor activities including camping, hiking, wildlife watching, and horseback riding. 
For more information on the rules and regulations that apply to hunters and other recreational users of state lands, visit the Virginia Department of Wildlife Resources website.
. 
WILDLIFE MANAGEMENT AREAS
Hunting in Virginia's Wildlife Management Areas
There are more than 40 WMAs across the state of Virginia which are held in trust by the DWR with the goal of maintaining and enhancing wildlife habitats to support both game and nongame species within the state, and to provide hunting, fishing, and trapping opportunities. These spaces re also open to a variety of other recreational activities including wildlife viewing, hiking, and camping among others. For more information on WMAs in Virginia, visiting the Virginia DWR website. 
WMA Regulations
Additional rules and regulations may apply within Wildlife Management Areas, which must be followed by anyone using WMA lands. Some of these regulations may include: 
Additional access permit requirement
Camping/fire restrictions
Restrictions on the use of dogs
Firearms restrictions
Baiting restrictions
For more information on the rules and regulations that apply within Virginia's WMAs visit the Virginia DWR Public Lands page.
The Old Dominion State. Ready and rarin' to go.

Where to Hunt in Virginia
The Old Dominion state is a known destination for hunters and boasts plenty of popular game species including deer, bear, turkey, and a variety of small and upland game. In particular – the state is well known as a bowhunters paradise, especially for deer with record braking racks. Plus, the deer archery season in Virginia in lengthly ensuring plenty of time to enjoy some time in the field, and fill your freezer. 
Hunters in search of prime bowhunting territory should head to Fairfax County. Deer populations in the state are consistently higher, and deer harvest numbers are the highest in the state. The county also offers multiple parks and spaces open to hunting, in addition to managed hunts to reduce the region's deer population. 
While bear populations are no match for the abundance of deer in the state, there are still plenty of opportunities to harvest one of the state's black bears – as long as you know where to look. For the best chances, hunters who possess a bear tag can try their luck in the northwestern region of there state where harvest numbers are consistently strong. Public hunting opportunities in the region include  TM Gathright WMA, Havens WMA, and Rapidian WMA. 
Helpful resources for Hunting in Virginia