TEXAS HUNTER EDUCATION CERTIFICATE,
We Make it Simple
Your Official Texas Hunter Education Certificate in 3 easy steps.
Start the hunting course now and get in the stand today.
Step 1
TAKE THE HUNTING COURSE ONLINE
Take the official HUNTINGsmart! Course online and watch, listen and learn on any device. Our animated, narrated and live-action hunter education course puts you right in the stand. Everything you need to pass the Texas Hunter Safety Test and hunt with confidence included.
Made for hunters, by hunters
Designed for all ages and abilities
Study at your own pace, your progress is tracked automatically
Optimized for all devices, including mobile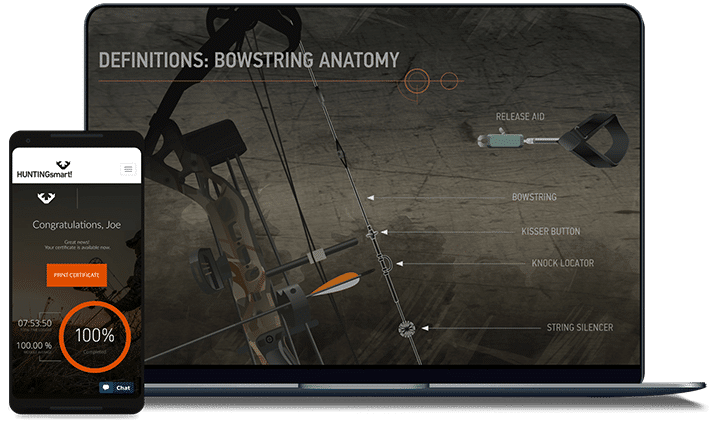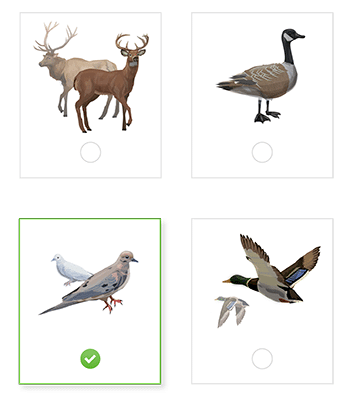 Step 2
PASS THE OFFICIAL TEST
Our Official Texas Parks and Wildlife Department Hunter Education Exam is available to ages 9 and up.
State Approved Texas Hunter Safety Test

Available for hunters aged 9 and up

Unlimited free test retries included
Step 3
PRINT YOUR TEMP CARD OR FIELD DAY QUALIFICATION VOUCHER
That's it! You've gained the knowledge and confidence to hunt safely. Immediately upon passing the test, you'll be able to print a temporary Texas Hunter Education Certificate, OR Field Day Qualification Voucher for hunters aged 9-16.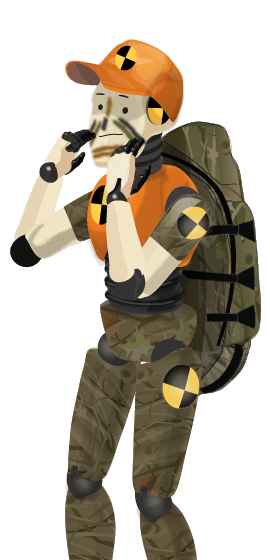 THE OFFICIAL TEXAS
HUNTING SAFETY COURSE
The HUNTINGsmart! Course is 100% Texas Parks & Wildlife Approved and includes all the knowledge required to obtain your Hunter Education Card. Take the hunting course online at your own pace with easy-to-understand, step-by-step lessons.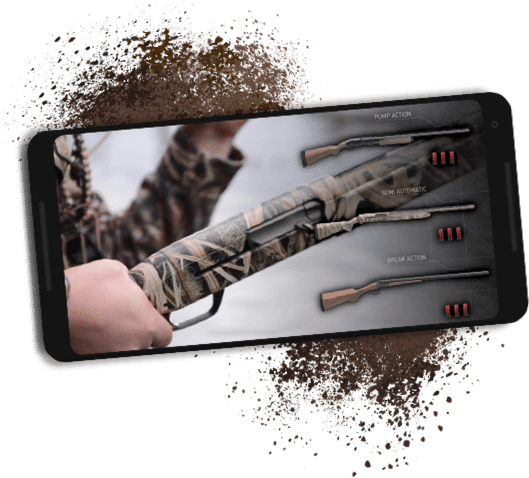 Excellent!
HUNTINGsmart! has a rating of 4.6 out of 5 stars based on 177 ratings and reviews.

Step Inside the
HUNTINGsmart! Course

The HUNTINGsmart! Course includes all required Texas Parks & Wildlife knowledge points in an easy-to-navigate and understandable format, organized into 15 learning modules and practice quizzes that help you test your comprehension prior to the final test.
1.
HUNTING BASICS
Rules and Safety Rules
Definitions
Boating
Action Styles
Safety Mechanisms
Ammunition
Cartridges
Shells and Gauges
Module 1 Summary and Quiz
2.
FIREARM SAFETY
Live Action
Loading Your Firearm
Improper Loading
Hand Fires, Squib Loads, Misfires
Unloading
Passing a Firearm
Cleaning and Storage
Module 2 Summary and Quiz
3.
RIFLES 101
Rifle Types and Components
Bolt Action Rifles
Level Action Rifles
Pump Action Rifles
Loading and Unloading
Firing
Module 3 Summary and Quiz
4.
SHOTGUNS 101
Shotgun Types and Components
Break Action Shotguns
Pump Action Shotguns
Semi-Automatic Action Shotguns
Loading and Unloading
Firing
Module 4 Summary and Quiz
5.
HANDGUNS 101
Handling
Caliber
Components
Semi-Automatic Pistol
Single-Action Revolver
Double-Action Revolver
Loading and Unloading
Firing
Module 5 Summary and Quiz
6.
MUZZLELOADERS 101
Muzzleloaders
Muzzleloader Dangers
Components
Muzzleloader Types
Primer
Loading and Unloading
Firing
Cleaning
Module 6 Summary and Quiz
7.
MARKSMANSHIP
Safe Zones and Scenarios
Trajectory
Sights and Ranges
Shooting Positions
Rifle Marksmanship
Shotgun Marksmanship
Handgun Marksmanship
Self-Control
Module 7 Summary and Quiz
8.
HUNTING PREPARATION
Hunter Clothing
Eliminating Scent
Eye Protection
Hunting Lists
Hunter Health
Planning and Mapping
Landowner Courtesy
Off-Roading and Boating
Module 8 Summary and Quiz
9.
HUNTING LAWS AND REGULATIONS
Hunting Laws
State and Federal Laws
Municipal Laws
Penalties and Fines
Hunting Seasons
Licenses and Tags
Conservation
Endangered Species
Module 9 Summary and Quiz
10.
WILDLIFE
Finding Your Game
Vital Zones
Game Animals A-Z
Tracking
Module 10 Summary and Quiz
11.
IN THE FIELD
Carrying Your Firearm
Fences and Rivers
Rough Terrain
Ground Blinds
Stands
Harnessing
Supplies
Stalking
Tactics
Posting, Driving, Dogging
Module 11 Summary and Quiz
12.
BOWHUNTING
Bow Anatomy
Bow Types
Arrows
Arrowhead Types
Broadheads
Adders
Loading
Gripping
Aiming and Shooting
Safety Gear
Module 12 Summary and Quiz
13.
YOUR CONTRACT TO KILL
Tracing Wounded Game
Tagging
Field Dressing
Moving the Animal
Trophy Talk
DIY Mount Skinning
Module 13 Summary and Quiz
14.
SURVIVAL
Hunting Emergencies
Survival Kits
Treating Injuries
Hypothermia and Cold Water Immersion
Signalling for Help
Using Technology
Building a Fire
Building a Shelter
Module 14 Summary and Quiz
15.
CONTINUING A GREAT TRADITION
Hunter Ethics
Respect
Safety
Responsibility
Behaviour and Image
Advocacy
Importance of Hunter Education
Module 15 Summary and Quiz
"GREAT COURSE! COVERED EVERYTHING NEEDED. HIGHLY RECOMMEND HUNTINGSMART!"
– Glenn R, San Antonio, TX –