GEORGIA HUNTER EDUCATION CERTIFICATE,
We Make it Simple
Your Official Georgia Hunter Education Certificate in 3 easy steps.
Start the hunting course now and get in the stand today.
Step 1
TAKE THE HUNTING COURSE ONLINE
Take the official HUNTINGsmart! Course online and watch, listen, and learn on any device. Our animated, narrated and live-action hunter education course puts you right in the stand. Everything you need to pass the Georgia Hunter Safety Test and hunt with confidence included.
Made for hunters, by hunters
Designed for all ages and abilities
Study at your own pace, your progress is tracked automatically
Optimized for all devices, including mobile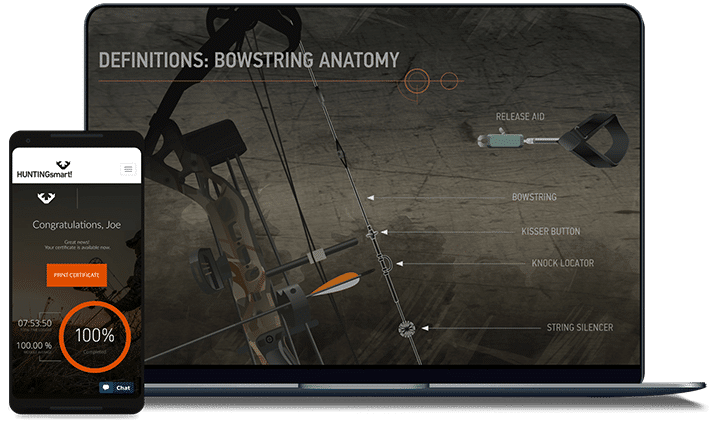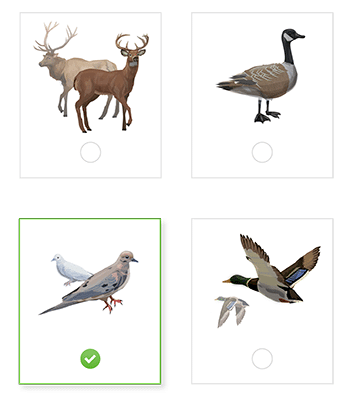 Step 2
PASS THE OFFICIAL TEST
Our Official Georgia Department of Natural Resources Hunter Education Exam is available to hunters of all ages.
State Approved Georgia Hunter Safety Test

Available for hunters of all ages

Unlimited free test retries included
Step 3
PRINT YOUR TEMP CARD
That's it! You've gained the knowledge and confidence to hunt safely. See you in the stand. Immediately upon passing the test, you'll be able to print a Georgia Hunter Education Certificate.
Print your Georgia Hunter Education Certificate immediately from Go Outdoors Georgia

Your Georgia Hunter Education Certificate is good for life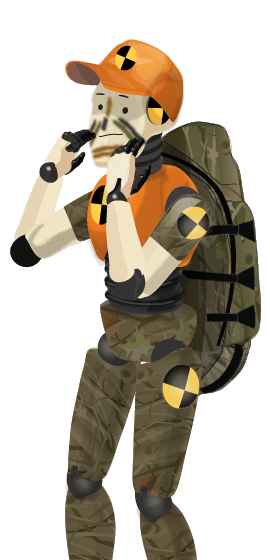 OFFICIAL GEORGIA HUNTING SAFETY COURSE
The HUNTINGsmart! Course is 100% Georgia Department of Natural Resources Approved and includes all the knowledge required to obtain your Hunter Education Card. Take the hunting course online at your own pace with easy-to-understand, step-by-step lessons.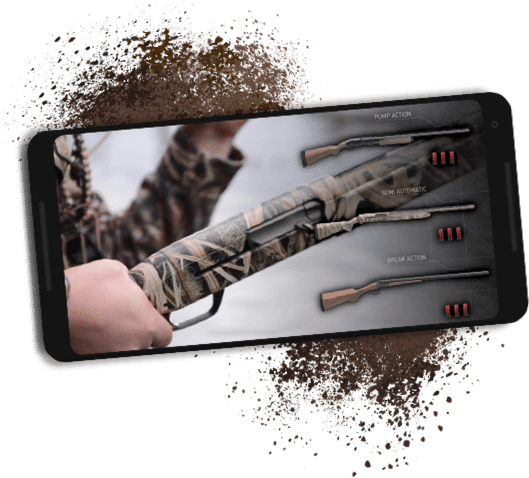 Excellent!
HUNTINGsmart! has a rating of 4.6 out of 5 stars based on 162 ratings and reviews.

Step Inside the
HUNTINGsmart! Course

The HUNTINGsmart! Course includes all required Georgia Department of Natural Resources knowledge points in an easy-to-navigate and understandable format, organized into 15 learning modules and practice quizzes that help you test your comprehension prior to the final test.
HUNTING BASICS
Welcome To The Club  
Safety: The Top Ten Rules For Hunters  
Georgia's Hunter Education Regulations     
Georgia's Hunting License Requirements   
Starting From Scratch: Definitions  
Get To Know Your Firearms  
Action Types
Safety Mechanisms
Know Your Ammunition
Ammunition Components
Rifle And Handgun Cartridges
Cartridge Components: Getting Specific
Matching Your Data Stamp And Head Stamp  
Shotshells
Shotshell Components: Getting Specific
Shotgun Gauge
 Shot Sizes
Non-Toxic Shot 
Matching Shotgun Ammunition
General Ammunition Safety Tips 
Georgia's Age Restrictions For Hunters
FIREARM SAFETY
Handling Your Firearms Safely: Check It Yourself  
Loading Your Firearm  
The Dangers Of Improper Loading  
Hang Fires, Squib Loads And Misfires  
Unloading Your Firearm  
Passing A Firearm To Another Person  
Firearm Cleaning And Storage
RIFLES
Rifles                      
Bolt Action Rifle Components
Check It Yourself: Bolt Action Rifle
Loading A Bolt Action Rifle
The Firing Cycle Of A Bolt Action Rifle 
Unloading A Bolt Action Rifle 
Lever Action Rifle Components
Check It Yourself: Lever Action Rifle 
Loading A Lever Action Rifle
The Firing Cycle Of A Lever Action Rifle  
Unloading A Lever Action Rifle
Pump Action Rifle Components
Check It Yourself: Pump Action Rifle
Loading A Pump Action Rifle
The Firing Cycle Of A Pump Action Rifle
Unloading A Pump Action Rifle
SHOTGUNS
Shotguns     
Choke
Choke Types
Break Action Shotgun
Break Action Shotgun Components
Check It Yourself: Break Action Shotgun
Loading A Break Action Shotgun
The Firing Cycle Of A Break Action Shotgun
Unloading A Break Action Shotgun 
Pump Action Shotgun Components
Check It Yourself: Pump Action Shotgun
Loading A Pump Action Shotgun
The Firing Cycle Of A Pump Action Shotgun  
Unloading A Pump Action Shotgun
Semi-Automatic Action Shotgun Components
Check It Yourself: Semi-Automatic Action Shotgun 
Loading A Semi-Automatic Action Shotgun
The Firing Cycle Of A Semi-Automatic Action Shotgun
Unloading A Semi-Automatic Action Shotgun
HANDGUNS
Handguns
Handgun Components
Semi-Automatic Pistols
Loading A Semi-Automatic Pistol
The Firing Cycle Of A Semi-Automatic Pistol
Unloading A Semi-Auto Pistol
Single Action Revolver
Loading A Single Action Revolver
The Firing Cycle Of A Single Action Revolver 
Unloading A Single Action Revolver
Double Action Revolver
Loading A Double Action Revolver
The Firing Cycle Of A Double Action Revolver 
Unloading A Double Action Revolver
MUZZLELOADERS
Muzzleloaders
Muzzleloader Rules
Muzzleloader Types & Components
Primer
Check It Yourself: Muzzleloaders
Loading A Muzzleloader
Firing Cycle Of A Muzzleloader
Unloading A Muzzleloader
Cleaning A Muzzleloader
MARKSMANSHIP
Marksmanship
Safe Zones Of Fire
Trajectory: Your Bullet's Path
Shooting Uphill And Downhill  
Bullet Range  
Hit The Range
Using A Sight
Shooting Stance
Rifle Marksmanship
Shotgun Marksmanship 
Shotgun Shooting Techniques
Handgun Marksmanship
Self-Control
The Never List
HUNTER PREPARATION
Getting Ready To Go
Hunter Clothing
Camouflage 
Hunter Or "Blaze" Orange
Your Gear And Equipment
Eye Protection
Hunter Health & Pre-Season Conditioning
Hunting Plans  
Map It Out  
Hunting Locations
Georgia's Wildlife Management Areas
Georgia's Special Hunting Regulations 
Georgia' Voluntary Public Access (VPA) Properties
Landowner Courtesy 
Hunter Transportation: Getting Out There 
HUNTING LAWS & REGULATIONS
Hunting Laws
Georgia's Hunting Terminology
How Hunting Laws Work
Penalties And Fines
Hunting Seasons 
Licenses And Tags
Types Of Hunting Licenses In Georgia 
Hunting Regulation Resources
Georgia's Legal Hunting Hours
Wildlife Conservation And Management
North America's Wildlife Conservation Principles
Fair Chase
Georgia's Baiting Regulations
Wildlife Management
Habitat Management
Endangered Species
Carrying Capacity
Hunting Organizations
Georgia's Weapon Restrictions
Georgia's Closed Areas For Hunting 
Georgia's Unlawful Hunting Activities
WILDLIFE
Finding Your Game
Vital Zones
Antelope
Bears
Mule Deer
White-tailed Deer
Dove
Ducks
Elk
Geese
Grouse
Moose
Pheasant
Quail
Rabbit
Squirrel  
Turkey  
Wild Hog
Identifying Game Tracks
BOWHUNTING
Overview: Get To Know Your Bow                 r
Bow Anatomy
Bowstring Anatomy
Bow Types
Arrows
Arrowhead Types
Broadheads
Adders
Bowhunting 101
Loading You Bow
Gripping Your Bow Handle
The Bowhunter's Shooting Stance 
Aiming Your Arrow
Instinctive Aiming
Bowhunting Safety Gear
IN THE FIELD
In The Field 
Carrying Your Firearm 
Tackling Tough Terrain
Using Ground Blinds
Where To Set Up Your Ground Blind
Duck Blinds
Using Elevated Stands
Choosing A Stand Location
Types Of Stands 
Fall Arrest Systems And Full Body Harnesses
Single Strap Harness Dangers
How To Respond To A Fall From An Elevated Stand
Treestand Logistics 
Know Your Limit
Treestand Supplies  
Field Tactics
Hunting Dogs 
TAKING GAME
Taking Game
Tracking Wounded Game
Tagging Requirements
Field Dressing
Field Dressing Big Game
How To Field Dress A Deer 
Field Dressing Small Game 
Field Dressing Feathered Game
The Importance Of Meat Harvesting
Kid-Friendly Field Dressing
Hauling It Home
SURVIVAL
Hunting Emergencies  
Sober Is Safe
Emergency Prep
Know The Weather 
First Aid Survival Kits  
Treating Injuries In The Field 
Cold Water
Hypothermia
Heat Related Illness 
Getting Lost...And Found
Signaling For Help
Using Technology     
Building A Survival Fire
Building A Shelter
CONTINUING A GREAT TRADITION
Hunter Ethics: The Unwritten Rules  
Rule #1: Hunter Respect     
Rule #2: Hunter Safety
Rule #3: Hunter Responsibility  
Behavior And Image           
Hunting Advocacy
Get Involved
Join A Camp
The Importance Of Hunter Education  
Why We Do This
"GREAT COURSE! COVERED EVERYTHING NEEDED. HIGHLY RECOMMEND HUNTINGSMART!"
– Glenn R, Eastman, GA –