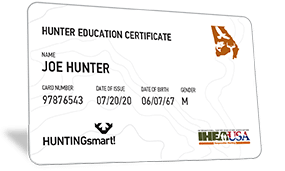 AGE REQUIREMENTS FOR GEORGIA HUNTERS
Any person who hunts within the state of Georgia, who was born on or after January 1, 1961 is required to complete Hunter Education Certification. There is no minimum age to get certified.  
Excellent!
HUNTINGsmart! has a rating of 4.6 out of 5 stars based on 157 ratings and reviews.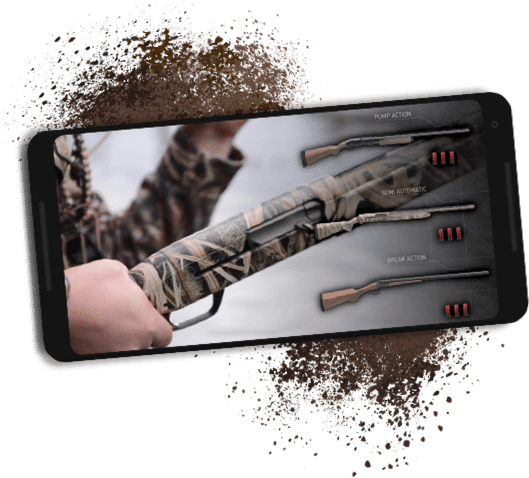 Watch, Listen & Learn
Take the course anywhere, on any device, at any time.
HUNTINGsmart!'s Georgia Hunter Education Course is designed for all ages and skill levels. Our animated, narrated and live action videos guide your learning experience and help you pass. Study from your Smartphone, Tablet or Desktop and switch between devices at any time. HUNTINGsmart! automatically tracks your progress so you can start, stop and study at your own pace.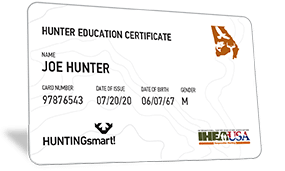 GEORGIA HUNTING EDUCATION REQUIREMENTS

HUNTING LICENSES, STAMPS AND PERMITS
HUNTING LICENSES
In addition to hunter education certificates, hunting licenses are required to hunt within the state. The type of license you need will depend on your age, the type of game being hunted, and your residency status. There are numerous licenses, both free and paid which may be required. Always be sure to check which license you need to hunt a particular game animal and that you're carrying the correct licenses and permits with you, before heading out on your hunt. 
SPORTSMAN'S LICENSE
Hunters may choose to purchase a $65 annual Sportsman License. The Sportsman's License provides all state paid hunting and fishing privileges, with the exception of the paid Alligator Harvest Permit. For more information on hunting license requirements visit the Georgia Department of Natural Resources (GDNR) Wildlife Resources Division website. 
SPECIAL PERMITS
Special permits may be required within the state of Georgia to hunt for particular animals. Hunters who wish to hunt deer with dogs require a special permit. Additionally hunters who wish to use falconry during their hunt must obtain a special permit. For more information on special permits, and when they're required visit the Georgia Department of Natural Resource, Law Enforcement Division website. 
Lifetime Licenses
Hunters who participate in the sport frequently may choose to purchase a one-time Lifetime License. Fees for the Lifetime License vary depending on age, however, they may be beneficial to hunters who would prefer not to purchase a new license each year or season. The Lifetime Licenses are valid for the hunter's lifetime and continue to be valid even if the hunter eventually resides in another state. Lifetime Licenses include the privileges available from the following other types of licenses:
Hunting

Big Game

Wildlife Management Area (WMA)

Quota Alligator Harvest Permit—if you are drawn for an alligator through the quota system

Waterfowl and Migratory Bird Stamp

Salt and Freshwater Fishing

Mountain Trout
GEORGIA HUNTER CERTIFICATION AGE REQUIREMENTS

Under 12 years of age
Hunters who are less than 12 years of age are not required to obtain hunter education certification, however they must be under the direct supervision of a certified (or exempt) adult who is 18 years of age or older, and within direct sight or hearing of the child.

12-15 years of age
To hunt legally in Georgia, hunters who are 12-15 years of age must either obtain hunter education certification OR be under the direct supervision of a certified (or exempt) adult who is 18 years of age or older, and within direct sight or hearing of the child. It is unlawful for a parent to allow their 12-15 year old child to hunt without supervision unless they are certified. 

16-25 years of age
Hunters who are 16-25 years of age must obtain hunter certification to hunt legally within the state or be supervised by a certified adult. Additionally, hunters of this age group are required to present their education certificate prior to being able to purchase a season hunting license and must carry the certificate with them while hunting. 

Over the age of 25
Hunters who are over the age of 25 and who were born after January 1st, 1961 must obtain hunter education certification however, they are not required to present the certificate to purchase a season hunting license, or carry certification while hunting. 

Exceptions
Hunters born prior to September 1st, 1961

Hunters who are under 12 years of age who are directly supervised

Hunters who are 12-15 years of age who are directly supervised
DO I NEED A HUNTING LICENSE TO HUNT WITHIN THE STATE OF GEORGIA?
Yes. A Hunting License is different from a Hunter Education Certificate and is required to legally hunt game within the state. Varying paid or free licenses must be carried depending on the hunter's age, residency, and the type of game being hunted. Certain exceptions may apply depending on the game animal being hunted. For more information on Georgia hunting licenses and requirements visit the Georgia DNR Wildlife Resources Division Website. 
WHAT ARE THE BAG LIMITS IN GEORGIA?
Bag limits within the state of Georgia vary by, region, county, season, and type of game animal. Hunters must understand and follow bag limits within their county or "zone". For more information on bag limits by county and species check out the Georgia DNR, Wildlife Resources Division website.  
WHAT ARE THE GEORGIA TAGGING REQUIREMENTS?
Certain game species in Georgia must be tagged after they've been taken. Tagging instructions may vary depending on the game animal, and the region however some common tagging requirements are:
Using the correct type of tag for the animal

The animal type or category be clearly identified on the tag 

The animal be tagged prior to being field dressed

The month and date be identified on the tag 

The tag be attached to the animal in the correct location
WHAT DOES DIRECT SUPERVISION MEAN?
Hunters in Georgia who are less than 12 years of age and do not require certification, or who are 12-15 years of age and have yet to obtain certification must be directly supervised in order to hunt within the state. Direct supervision means by an adult who is 18 years of age or older and who has obtained hunter education certificate or is exempt. The supervisor must be within sight or hearing of the person being supervised. 
WHAT ARE THE HUNTER ORANGE REQUIREMENTS IN GEORGIA?
All hunters and persons accompanying hunters in Georgia are required to wear at least 500 square inches of daylight fluorescent-orange (hunter or "blaze" orange) on their body, above the waist. This may include a head covering. Hunter orange is required when hunting: 
Deer during the primitive weapons or firearms deer season

Bear during the primitive weapons or firearms bear seasons

Feral hogs during firearms deer season
Hunter orange is also required during special opportunity coyote and feral hog hunts in Wildlife Management Areas (WMA) and on Federal lands. 
The regulations do not apply on WMA or Corps of Engineers tracts which are designated as archery-only, unless otherwise stated. 
WHAT ARE THE GEORGIA HARVEST REPORTING REQUIREMENTS?
In Georgia, tagging for some game animals is no longer required. The tagging regulations have been replaced with a harvest reporting requirement which is associated with the hunters license. Hunters must immediately report any harvested deer, turkey, bear and small game animal. Furbearers, Alligators and other game animal species may also require harvest reporting. Be sure to check the specific regulations for the game animal you've taken. Harvest reports are available for free and should be filled out immediately. 
Hunters who have cell service during their hunt may also choose to report their harvest electronically online or by downloading the Outdoors GA App. 
Harvest records that are filled out manually must be for the current year. New harvest records for the current hunting season are valid beginning in March and remain valid through to February of the following year.  

GAME AND NON-GAME SPECIES
GAME SPECIES
The state of Georgia offers a number of different game species, and hunting opportunities for hunters of all ages, skill levels, and interests. It's landscape, which includes mountain ranges, coastal waters, and heavily wooded forests, is populated by a variety of game species including deer, turkey, bear, dove, small game species, and a variety of waterfowl. In addition, the state offers alligator hunting opportunities, and trapping. 
Overall the state has no shortage of opportunities for big game, small game, and waterfowl hunters alike. For more information about game species in Georgia, and rules and regulations that apply to hunters, visit the Georgia DNR, Wildlife Resources Division website.   
NON-GAME SPECIES
Some animals in Georgia are qualified as "non-game species". Non-game wildlife means all species of flora and fauna indigenous to Georgia which are not legally taken through hunting, fishing, trapping or otherwise.
Hunters or trappers may still take some non-game species which are considered a nuisance, or are not protected. These species include coyotes, armadillos, groundhogs, beavers, starlings, English sparrows, pigeons, fiddler crabs and venomous snakes
There is no closed season for some non-game species including feral hogs, coyotes, beaver groundhogs, and some types of birds. They may be hunted using lawful means, although certain regions may have restrictions in place. 
Hunters should also note that additional caution should be taken when hunting armadillo and they may carry leprosy.  
THREATENED AND ENDANGERED SPECIES
Georgia is home to several species which are designated as endangered, threatened or at-risk These species may not be hunted under any circumstances – to take an endangered or threatened species is unlawful within the state. 
INVASIVE SPECIES
Like most states, Georgia has been invaded by a variety of invasive and nuisance species. These animals, plants, fish, and invertebrates typically have no natural predators which can results in rapid spread and population growth. This in turn can seriously harm the state's lands and waters, and can be detrimental to the health and population numbers of a variety of the state's native plants and animals. 
Invasive species in Georgia include the africanized honey bee, feral pigs, nutria, asian clams, in addition numerous other plants, insects, mammals, mollusks, birds and fish.  
Anyone who encounters invasive species within the state is encouraged to report it to help stop the spread. For more information on how and where to report various types of invasive species visit https://www.invasivespeciesinfo.gov/us/georgia

GEORGIA HUNTING SEASONS
Hunting seasons and dates per game animal may change annually, depending on a variety of factors. Season dates are sometimes further broken out by county, region or "zone". Additionally, seasons are often categorized by firearm time, including archery, firearms, and muzzleloader or "primitive" firearms seasons. 
Additionally, some types of game animal may be hunted year-round depending on the species or where the game animal is being hunted (ex. on private property). 
Hunters must keep up-to-date on the season dates for their zone or region and type of game animal. For the most up-to-date information on game animal season dates in Georgia visit the Georgia DNR, Wildlife Resources Division website. 
HUNTING ON PUBLIC OR PRIVATE LAND
PUBLIC LAND
There are numerous public land hunting opportunities in Georgia. These include hunts within Wildlife Management Areas (WMAs), in addition to Voluntary Public Access (VPA) Properties. VPA areas are available thanks to cooperating private landowners within the state. To find a WMA near you, use the Georgia DNR Interactive Map.
Hunters should remember that varying rules, regulations, and restrictions may apply when hunting on public lands including on WMAs and within VPA properties. Hunters must follow the regulations within the particular area – this may include firearm type restrictions, road closures, and check-in or sign-in hunt requirements. 
Check-in hunts
Check-in hunts require that hunters check-in prior to hunting. Hunters may check-in beginning at noon one day prior to the hunt, anytime during the hunt, or online at GoOutdoorsGeorgia.com. 
Sign-in hunts
All big game hunters must either sign-in or check-in prior to hunting any big-game. Sign-in begins at noon one day prior to the hunt at check stations or kiosks, and is required once per hunt. 
PRIVATE LAND
Much of the land in Georgia is either privately owned or managed. Hunters may freely take most game animals on their own land, or may get permission from private landowners to hunt on their property. Hunters must be aware of rules and regulations that apply when hunting on private property, such as landowner rights, which include the following:
Landowners may grant or deny permission to hunt on their land

Landowners are permitted to charge for a hunting lease

Hunters may be required by the landowner to sign a liability waiver

Landowners may impose stricter bag limits or harvest requirements for game animals taken on their property, within existing game laws.
Additionally, there are numerous land lease opportunities within the state. For more information on private land hunting opportunities, land leasing opportunities, and joining a pre-existing hunting club, visit the Georgia DNR State Parks and Historic Site website. 
RESTRICTED HUNTING AREAS
Many regions within the state of Georgia have placed restrictions within hunting areas. Some of these areas may not permit hunting at all, while others have put regulations in place which restrict where firearms are permitted, which firearms can be used and when they may be discharged, and which animals may be taken. These restrictions may be in place depending on the county, or if the hunter is on federally owned property. 
It is the responsibility of the hunter to be aware of and follow these restrictions. Violations of these restrictions may result in heavy fines. For more information on restricted areas, land access, closures and available amenities visit the Georgia DNR, Wildlife Resources Division website. 
Wildlife Management Areas
WMA Regulations
Some example of unlawful activities that apply on WMAs include:
Driving tactics for hunting deer (man-drives)

Possession of a loaded firearm in a vehicle

Hunting big game animals with dogs (unless specifically allowed)

Hunting within 50 yards of any road open to vehicle access

Baiting 
Georgia (and hunting) on my mind.

Where to Hunt in Georgia
There's no shortage of hunting destinations to choose from in the state of Georgia. Whether you're in search of bear, deer, turkey, waterfowl, or even gators, the Peach State is sure to have a prime hunting location to meet your needs. 
Black bear and deer hunters alike will find a favourite hunting haunt at Coopers Creek WMA. The area offers 30,000 acres of land open to hunting, and is a known destination for big game hunters in the state. The area also offers plenty of camping space for those looking to spend a night or two. 
Looking for a more exotic hunting adventure? Try gator hunting – with one of multiple guided hunts available. Many of the gator hunting outfitters within the state offer all the equipment you need for this intense type of hunting, so if you're looking to try something new or enjoy the rush of adrenaline that comes with taking one of these prehistoric creatures, gator hunting is a great choice. 
For more information on hunting opportunities, locations, game species, WMAs and hunting regulations within the state of Georgia, visit the Georgia Department of Natural Resources – Wildlife Resources Division website.
Helpful resources for Hunting in Georgia